This page will serve as a resource for information about our branch availability. When our branches are unavailable, we encourage our members to explore remote alternatives. Information on all of these transactional options is also listed below.
Gain Confidence with Our Call Center Experts
Our Call Center team is ready to address your needs with the expertise you've come to expect.
Call Center & Live Chat Hours

Monday-Thursday: 9:00 am - 5:00 pm
Friday: 8:00 am - 6:00 pm
Saturday: 10:00 am-2:00 pm
Phone Numbers
Local - (818) 846-1710
Toll-Free - (800) 622-3328
24/7 Card support (818) 846-1710 Press #2
Gain Access with Remote Banking Choices
Apply for a Loan
(Home Loans, Credit Cards, & Auto)
Change PIN on ATM
Debit or Credit Card
Debit and Credit Card Control
(Turn cards on/off)
Deposit Cash
(Obtain receipt at machine)
Deposit Checks
(Call to increase daily mobile limit)
File Card Dispute and Fraud Claim
Get Account Number and other important information
Replacement ATM, Debit
and Credit Card
Request Credit Card Limit Increase
Schedule Payments or Transfers
View Accounts and Balances
View Platinum Rewards Points and Redeem
Drop Off Box
Deposit cash, checks, or make payments by 4 pm for same business day credit
CO-OP ATM Network
30,000 ATMS - Across town and the nation
Click here to find the nearest ATM
Automated Telephone Banking
24/7 access to your account
Open a New Account
Visit GainFCU.com/Join
Hall, Hodges & Associates (Investment Services)
(818) 844-8400 ext. 2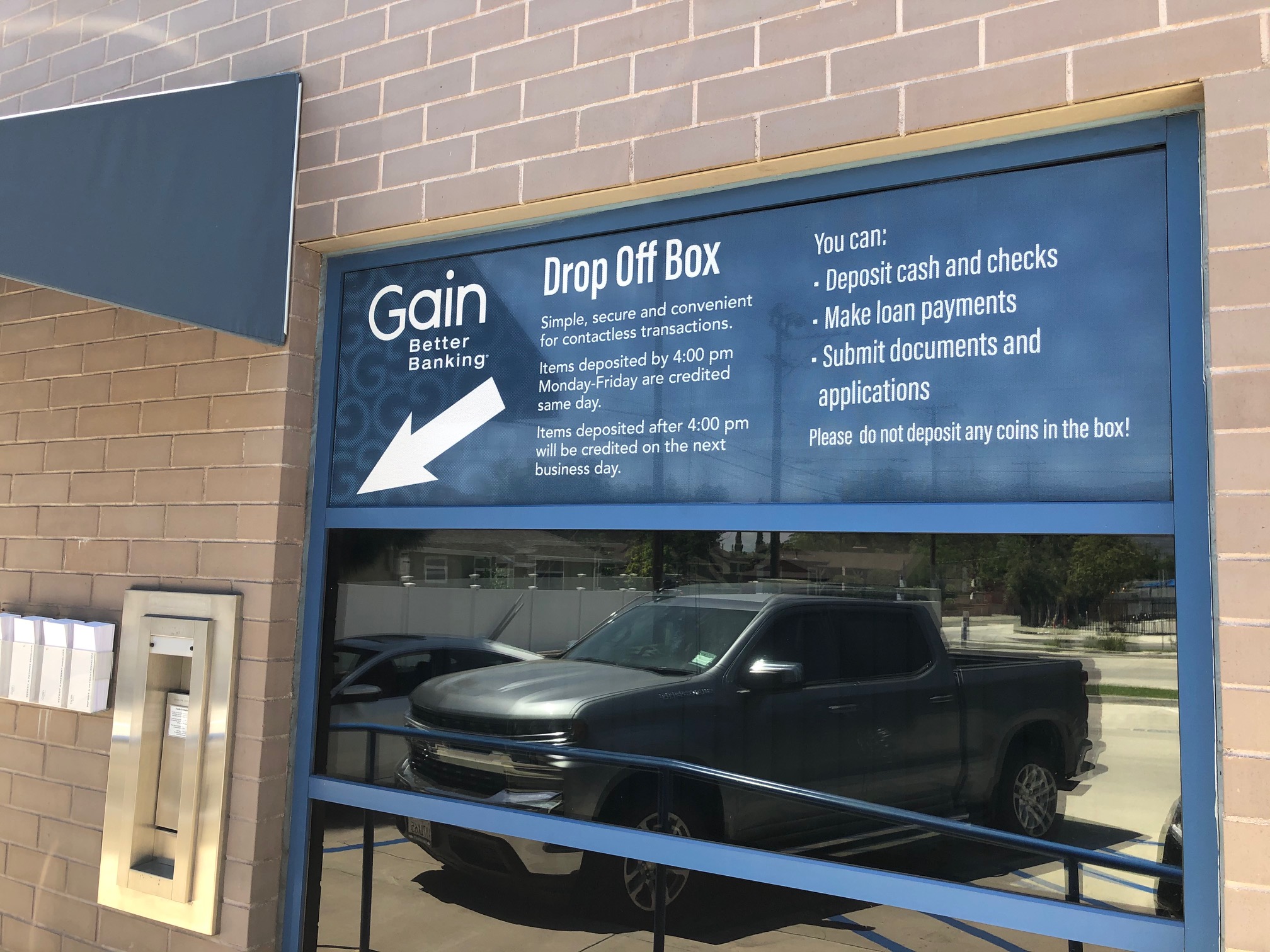 News and Updates
This section will serve as a resource to keep you up to date on the most recent service changes and steps you can take to protect yourself and your fellow members.
Service Updates
We will continue to adjust our lobby availability according to guidance issued by local, state, and federal authorities. For the latest news on branch availability, please visit GainFCU.com/Updates.
Our Call Center and Live Chat hours will be listed here.
Loan consultation is available both in-branch and remotely.

Auto loans, personal loans, and all other consumer loans can be addressed by phone at (818) 846-1710 or by using our online application found at GainFCU.com/Apply.
Home loans can be addressed through our Home Loan Department at (818) 846-1710 or by using our online application found at GainFCU.com/Mortgage.
Members who are experiencing any financial hardship should contact our Loan Servicing Department at (818) 846-1710, Ext 401. Our team is prepared to assist you with a variety of possible solutions.
To make payments from another financial institution to Gain, visit GainFCU.com/EZ-Pay for instructions on how to transfer funds by ACH/Debit Card.

We ask that members exhibiting signs of illness, are under a quarantine or isolation order or that have had close contact with someone who has tested postive for COVID-19 in the last 14 days do not enter the branch.
When You Can't Visit...
Utilize Online Banking when you're unable to visit! To learn more visit GainFCU.com/Online.
Download our Mobile App at GainFCU.com/Mobile.
The Drop Off Box at our Burbank branch is available 24/7. It's the quick and easy way to drop off deposits, documents and more without going inside the branch.
Follow our social media channels and News and Updates page for the latest developments:
Our members have access to more than 30,000 surcharge-free CO-OP ATMs nationwide.
The spread of COVID-19 has led to an increase in fraud. Please be aware that the credit union will not ask for confidential information such as full social security number, passwords, or PIN numbers to verify your account.
Rest assured that your funds are insured up to $250,000 by the NCUA. Learn more at NCUA.gov.
Regulation D Transfer Limits Temporarily Suspended*
Regulation D (Reg D) caps the amount of electronic account transfers for consumers at six per month. Recently the National Credit Union Administration (NCUA) authorized credit unions to waive limits on such transfers.
To soften the economic effects of COVID-19 and to ensure Gain Members have quick and easy access to their finances, Gain has temporarily suspended this limit.
Know More:
*In response to COVID-19, the Federal Reserve has removed the transaction limit under Regulation D for credit unions. Due to the Federal Reserve's announcement that it is eliminating reserve requirements, credit unions now have additional incentives to avoid the monthly transfer limit found in Regulation D. While Regulation D's transfer limit has not been eliminated outright, credit unions can work around it by reclassifying share or money market accounts as transaction accounts without incurring new reserve requirements. This is a temporary waiver of Regulation D.